I'll give the latest on McCleary (and it's not good) but I make a plea for something you
CAN
do
today.
Tomorrow afternoon,
KCTS
will be videotaping their program,
Ask the Governor
. I suggest that parents tsunami KCTS with questions about McCleary.
I have been very proud of the Governor's recent remarks in staring down Trump's immigration policies.
I would like to see the Governor do the same to the Legislature on McCleary.
On Feb. 16, 2017 at 3:30 p.m. KCTS 9's Enrique Cerna will sit down with Governor Jay Inslee in a Facebook Live interview to talk about the pressing issues facing Washington State, such as Washington State's future under President Trump, as well as take submitted questions. Watch the interview here, or on the KCTS 9 Facebook page.

Submit a question by posting on our Facebook, tweeting @KCTS9 with #AsktheGov or clicking on the link below.
Here's one question you can ask but certainly, feel free to craft your own.
"Governor, you have recently been a shining voice against the Trump administration's immigration policies. And thank you for your bold proposal on fully-funding our public schools with new revenue. That's real leadership. But what exactly are you doing to make sure that your public education funding proposal becomes part of the state budget?"
On McCleary and the work being done in the Legislature: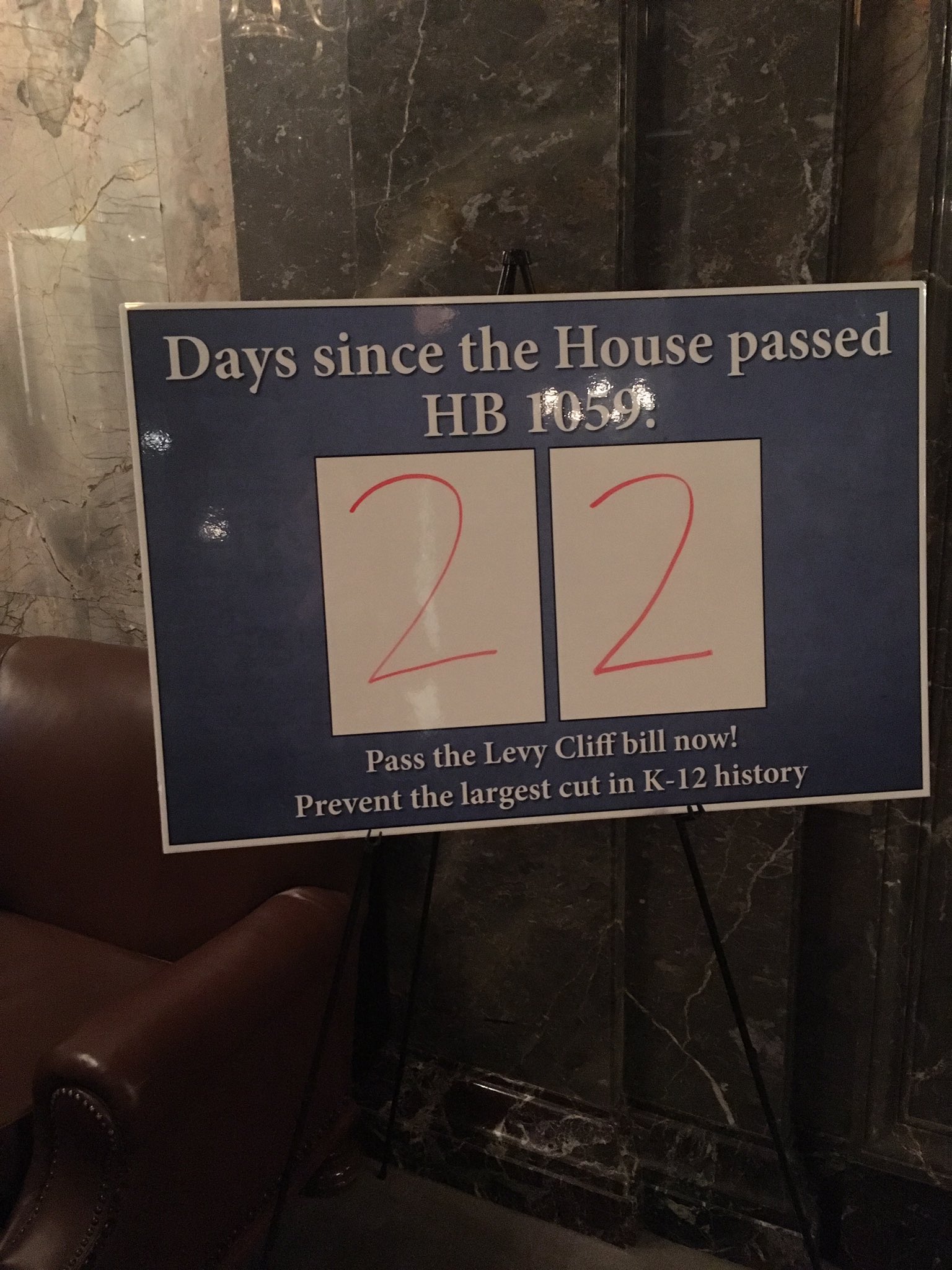 1) The
stand-alone levy cliff bill, HB 1059,
is just sitting there. The GOP legislators say that it will distract from work on their McCleary bill.
Well, it would be about 30 minutes or less of discussion for the levy cliff bill and 60 seconds of voting. Considering Senator Ann Rivers (R- LaCenter ) has the time to submit a bill to make Sasquatch the official "cryptid" of Washington State, I think this can be done.
As well, the GOP Senate McCleary bill HAS a provision to enact the levy cliff for one more year but the problem for both bills is timing. One or the other needs to get done sooner rather than later to protect districts. I believe foot-dragging is a tactic the GOP is using and if so, it's not going to help districts avoid the levy cliff. In essence, the levy cliff is a tool to wrestle Dems in line.
2) Neither McCleary bill from the House or Senate fully explains where the funding would come from.
HB 1843 is the House bill and SB 5607 is the Senate bill. The
League of Education Voters
has a side-by-side comparison of what is being done currently, the Governor's plan, SB 5607 and HB 1843.
Here's analysis of the Senate bill from the
Washington Budget and Policy Center.
(One interesting item to note, given my take on the high-level prominence of the word "equity" is that the Senate bill is called the "Education Equality Act).
The Senate Republicans' new plan to fund K-12 public schools continues to work within a framework that doesn't raise additional revenue – a strategy that has proven ineffective at serving Washington's kids and that could force cuts to other important investments.

The Senate's plan, called the Education Equality Act, features as its major funding source a new Local Effort Levy – basically, an increase to the statewide property tax of $1.80 per $1,000 of assessed value. As details about the plan emerge, however, it appears that the plan does not actually raise additional dollars for schools. That's because the proposed statewide property tax increase is coupled with cuts to local property tax levies that currently fund a significant portion of basic education costs.

In addition, any reforms to the property tax should also include steps to fix our inequitable, upside-down tax code – in which Washingtonians with the lowest incomes pay seven times what the richest 1 percent pay in taxes as a share of income. The Senate's plan aims to more evenly distribute the tax code so that homeowners in every school district pay the same property tax rate, regardless of property values. But that doesn't do enough to protect the thousands of lower- and middle-income homeowners and renters who would see higher property tax bills under the Senate proposal.
I want to point out that there has been some tension over the issue of pushing back on higher property taxes for wealthier areas (see Seattle) in order to fund regions of the state that don't have high property values.
Seattle, overall, may be wealthier than other parts of the state but there are low-income folks here as well as many renters. This kind of plan would increase gentrification and pass on much higher property taxes (and rent increases) to people who can least afford it.
From the
News Tribune:
Three different sets of numbers exist to explain how a GOP proposal to fix how Washington pays for schools would affect local school districts

Although Democrats haven't specified how they'd pay for their plan, Republican leaders have suggested implementing a new statewide property tax that would replace local school-district property tax levies. The Senate plan would also switch to a new per-pupil funding model that would award money based on a district's number of students, instead of school staffing levels.

Yet how much the Senate plan would affect property taxes for homeowners in each of the state's 295 school districts has remained the topic of intense debate at the Capitol, as has how the GOP plan would change the amount of funding the state provides to individual school districts.
Democratic lawmakers had previously alleged the Republican plan would cut funding for many school districts. But last week, the budget office of Democratic Gov. Jay Inslee said that it had completed an in-depth analysis showing that no school districts would receive less money under Senate Republicans' property-tax plan.
However,
Sen. John Braun, R-Centralia and the Senate's chief budget writer, said nonpartisan staff informed him last Monday that there might be an issue with the Senate's calculations. That was after the Senate already passed the school-funding plan off the floor, and the same day the proposal was heard in the House Appropriations Committee.

Democratic lawmakers criticized Braun on Tuesday for not informing them of the errors in the Senate's analysis early last week.

But Braun said he didn't withhold information. Rather, he said he was just working with staff to ensure the new numbers are right — and agreed upon — before they are released.
Well, the Crosscut article on this issue of the Republicans knowing their numbers were wrong has more testy language. (Bold mine.)
However, according to the Democrats' account, Republican legislators learned last Monday (Feb. 6) that the calculations contained errors — and they withheld that information from Democrats until late Thursday. They also, the Democrats say, didn't mention it in a high-profile public statement about the bill.



Sen. John Braun, R-Centralia, chairs the Senate Ways and Means Committee, and was the architect of the Republican plan. According to Democrats, Braun was the one who is said to have received the staff briefing on the errors. Reached in his office Tuesday, Braun denied he had withheld information from Democrats.



Orcas Island Sen. Kevin Ranker is the ranking Democratic member on the Senate Ways and Means Committee, and normally would receive the same bill-related briefings as Braun, the committee's Republican chair. But Ranker said Tuesday that, after hearing rumors there were errors in the plan, he confronted Braun late in the week.

"He said that, yes, there were errors," Ranker said of Braun. "He told me that he had been made aware days ago … and that he had asked that no one else be briefed, not me as the ranking member, not the public, not the media."



Braun and Senate Majority Leader Mark Schoesler, R-Ritzville, both stood by the Republicans' overall education plan.





"I don't know how the timing worked or didn't work," Schoesler said in a brief comment to a reporter. "We have the superior plan, and it's paid for."





Democratic legislators don't know how large the error is, said Senate Minority Leader Sharon Nelson, D-Maury Island, but assume it's large. "We know that the potential error is up to a billion dollars," Nelson said, before adding a caution that exact figures aren't available.
And still we wait.