Update:
today a federal judge ruled that
the practice of splitting families must cease.
A San Diego federal judge issued a preliminary injunction Tuesday at the request of the American Civil Liberties Union that calls for all children affected by the Trump administration's "zero-tolerance" immigration policy to be reunited with their parents within 30 days.

"The unfortunate reality is that under the present system migrant children are not accounted for with the same efficiency and accuracy as property. Certainly, that cannot satisfy the requirements of due process," he added.

Under the order, children younger than 5 years old must be reunited with their parents within 14 days, while older children must be reunited with their parents within 30 days. Within 10 days, federal authorities must allow parents to call their children if they're not already in contact with them.
Good news.
end of update
What sad, sad time in our country.
Don't be a Muslim child because there are those who think you'll grow up to be a terrorist (or your father already is). And as of today, don't have an ethnic background to certain countries because you will probably not see your relatives very often (thanks Supreme Court).
Don't be an Asian child because, for your entire life, people will ask you, "Where are you from?"
Don't be Hispanic because some will assume that you are here illegally.
Most especially, don't be a black child, especially a boy, because, for a few police officers in every single city or town, it seems you are their target practice.
Yesterday, another black mother laid her child to rest. That would be 17-year old Antwon Rose who was shot in the back, three times, by a Pittsburgh police officer. Rose was riding in a car that police were pulling over on suspicion that it had been used in a crime. Unarmed, Rose fled the car. It was later ascertained that it wasn't the car the police had been seeking. Another passenger also fled but was not shot at. There were two firearms found in the car.
Antwon was a student in the gifted program, taking honors classes. He played sax in the jazz band and was a volunteer.
In 10th grade, he wrote a poem, based on an assignment to write about something more important than themselves. It is called
"I Am Not What You Think!"
: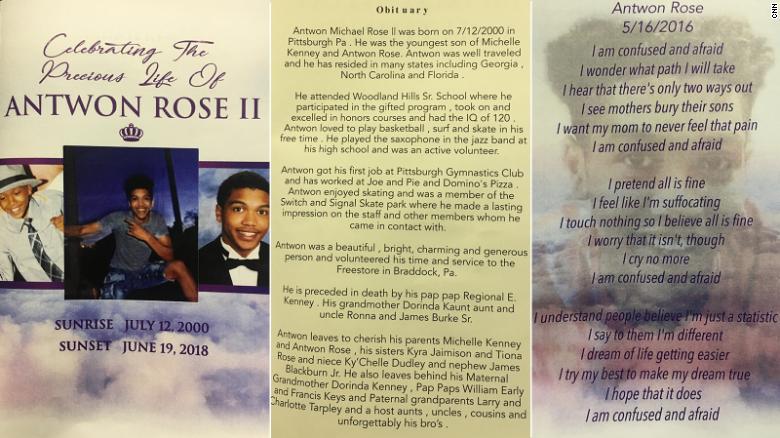 His parents had never seen the poem but thanks to his teacher who remembered it and sent it to them, they now have this treasure.
"I am confused and afraid,
I wonder what path I will take
I hear that there's only two ways out
I see mothers bury their sons
I want my mom to never feel that pain,
I am confused and afraid."
So, as parents, I ask you, do you worry that you may never see your child again, either thru death or someone taking them away? If not, then please have some compassion for others for whom this IS a daily worry.