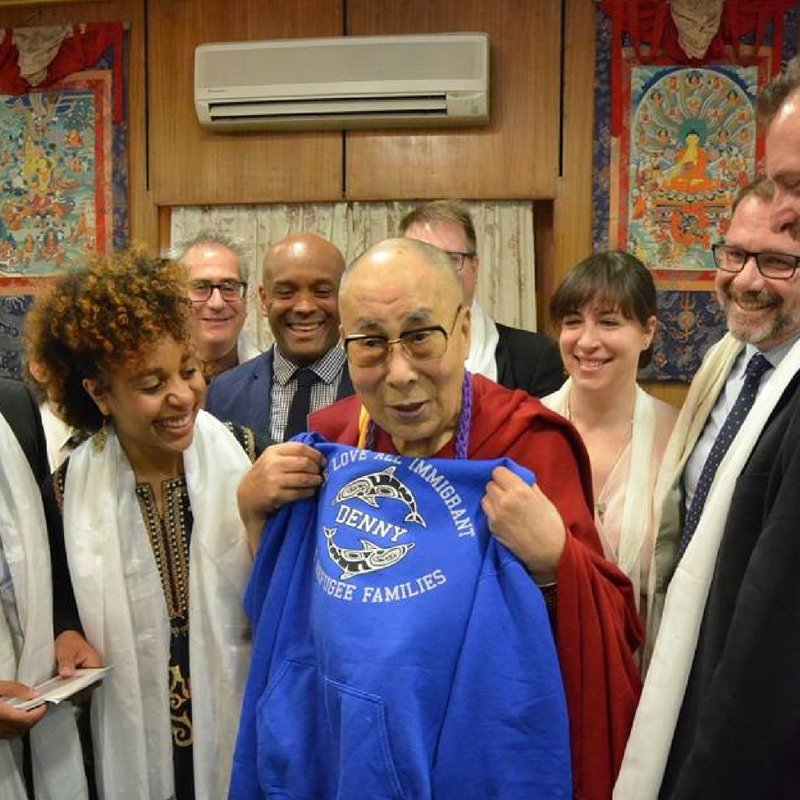 Congrats to
Nathan Hale
- national girls high school frisbee champs!
Speaking of Hale, tonight they are having a welcome dinner for
incoming new students
. Good for them.
Is that the Dalai Lama with a
Denny
shirt? Yup. From SPS Twitter:
@SeaPubSchools
Wow! On a recent trip to Dharamshala, India, Lori Markowitz, representing the Youth Ambassador program at Denny Intl Middle School, presented the @DalaiLama with a school "we all belong" sweatshirt as a gift from the Denny community! #SPSConnects
It appears that some portion of the
SEA
took a vote (from the Facebook page for Recess from Tests):
Voted on and passed by the teachers of Seattle at the June 11 RA (representative assembly)

"Therefore be it resolved that SEA call for a two year moratorium on all

standardized testing

, at the district, state, and federal levels and to open a public forum along with SPS on the best way to assess our students. Teachers will not be compelled to assess their students using any 3rd party assessment tools.

Be it further resolved that SEA will work with SPS to create waivers. Waivers may be needed during t

he moratorium for students barred from graduation due to state testing requirements, schools denied Title 1 funding and other reasons. Ongoing work to delink high school graduation requirements from testing will continue.





The moratorium will be considered a period of action research which will inform strategic planning for the authentic assessment of Seattle students."
I'll have a write-up from the Work Session on
BEX V
but good some unpleasant news at yesterday's Audit&Finance meeting. Staff is urging that the Board vote to finally bit the bullet to pay off the
bonds on the JSCEE
. Taken out in 2001 as former superintendent Joe Olchefske attempted to consolidate (and also it was said to save money) district facilities into one place. There were two series of bonds (A&B) totaling $54.5M.
"Proceeds from surplus building sales of $28.6M were used to retire the Series B bonds"
- this was several years ago.
The District's general fund made payments of $4.3M until about 2004 when resources were needed for school programs.
And I'd double-dog dare the district to prove that one - it all when for "school programs?"
The Series A bonds were refunded in 2010 to decrease interest payments over the life of the bond. The total principal and interest now outstanding is $28.M.
How does this impact BEX V? Their solution - which I reluctantly agree with to get this albatross gone from around this district's neck - is to take money out BTA IV ($5.6M), $10.1M from BEX V (if passed) and $10.1M from BTA V (if passed). Also, the district has a Capital Eligible Projects (CEP) fund that would contribute about $4.5M. This would take until about 2026-27 to get done.
All that selling of property and now capital funds do not/will not directly go to schools for renovations and updates.
What's on your mind?