What Do You Think?
I saw this video from
Creative Evolution
; it's called
The Truth About School
(in a two-minute video).
I think that it is simplistic and probably less-than-accurate about all public education because I don't agree all schools are doing this. But I do think that our country is still stuck on many issues around public education.
That's the funny thing - if you don't like the current ed reform ideas, you're "for the status quo." Nope. But there are other things that need to happen but the problem is that basically there's a lot of busy "look at what we got done" in public education, rather than "look at the outcomes for these students." You can "do" a lot and it may not help kids (especially when some people seem more interesting in their resume than actual outcomes).
But I think this two-minute video does start a conversation.
Based on your experience with public education so far, tell us this:
1) what is one thing from your own education that you wish was in your child's school?
2) name 1-3 things you'd get rid of in public education
3) name 1-3 things you'd add (if public ed in WA state was fully funded)
4) what is one thing that you believe would truly help your student's teacher(s)?
5) what is your biggest worry - today - about your child's education?
6) what is your biggest worry - today - about the Seattle School district?
7)
Robert Reich
said that he thinks testing today is hurting learning. Do you agree?
8) Reich also says class size matters. Do you agree?
9) Reich also says vocational ed needs to come back. Do you agree?
10) Reich also says the government should offer two free years of community college? Do you like that idea?
11) For whatever reason, Rep Chad Magendanz put out this chart that shows that teachers in Washington State make more money than the median household income. I'm a little confused on how it shows a climb in income for teachers because 1) it starts in about 2008-2009 which is when the recession started (and teachers haven't had a raise in about six years) and 2) I have to wonder if this would be true for
all
states. (It says the data is from OSPI.)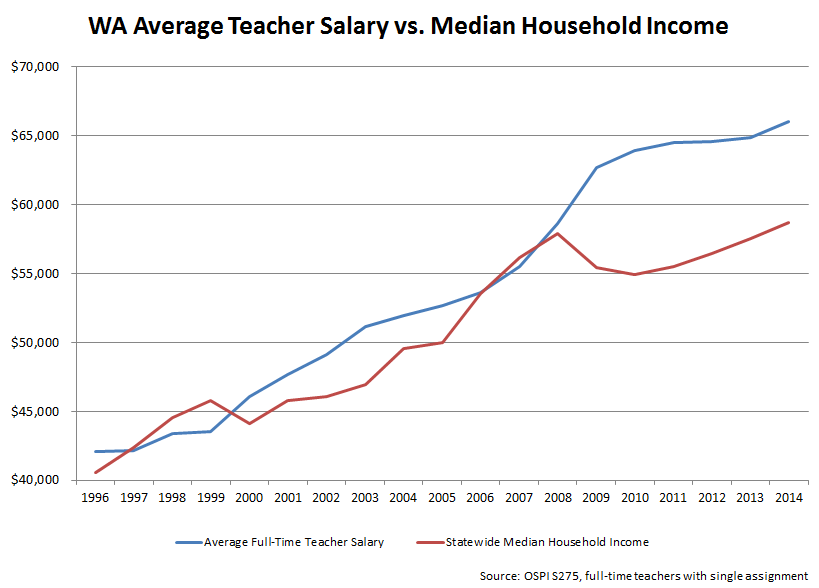 So my question is, do you think paying teachers well - both to keep the good ones and, more importantly, to attract new teachers - should not be a priority? And if teachers live in an area like ours (or San Francisco), wouldn't you need to pay them enough to be able to live in the city where they teach?
Please note: this is thread for any and all thoughts. As we have seen, many people discuss about different programs but we are not going to be arguing the rightness or wrongness of any program but rather, tally up how many similarities and differences we see.
If your comment does not follow the thread but challenges/attacks others comments, it will be deleted.